photo: Ion David
Vale da Lua
Distance from Alto Paraíso: 30km
Trilha: 600mts
Difficulty: Easy
Located in Alto Paraiso de Goias and one of the main attractions of ths region, Vale da Lua is in the National Park surroundings. It has an exotic beauty, with an easy level and short trail of unforgettable views.
This attraction is inside a private property, so all visitors have to get their tickets before entering to enjoy the place. There's also washrooms and food places at the entrance, security and lifeguards down the river bed.
Accounts of all people are that it is a must-see attraction if you're visiting the Chapada dos Veadeiros and want to connect with Nature and your inner self. Not to mention the views engraved in the memories.
General Information About Vale da Lua
We already know it is an amazing place to visit, but most important are the facts you should know to enjoy even more!
1. Why is it called Vale da Lua? (Moon Valley)

Its name came from the apparent similarities the Sao Miguel river bed has with the Moon terrain. By just knowing that, we're already sure you're curious and want to go there to register this. By the way, it's not common to see a river bed like the moon land.
2. How did it get these shapes and forms?

The landscape is formed by two Geological Groups: Paranoa (1.3 to 1 billion years old) and Trairas (1.6 to 1.3 Billion years old), that have been meta-formed.
The rocks have been buried and submitted to an increase in temperature and pressure (Diagenesis), which transformed them. Then, precipitation of calcite (an easy to dissolve kind of composition).
This Calcite presence makes dissolution easier, making the "pans" we see as the lunar aspects.
3. Formation of the "Pans".
The Pans are formed from the erosion the river waters and pebbles induce.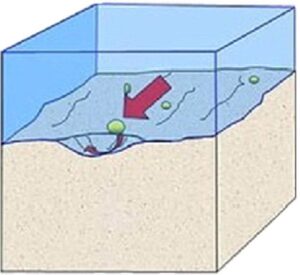 A Water circulates creating swirls that start to open cavities in the river bed.
Rock fragments get inside those cavities and spin around with the water flow.
These fragments abrade the cavities walls until the pans are formed.
Discover more waterfalls and lookouts in Chapada dos Veadeiros
Receive news about Travessia Ecoturismo in your e-mail