photo: Ion David
Voo do Gavião Zipline
Voo do Gavião Zipline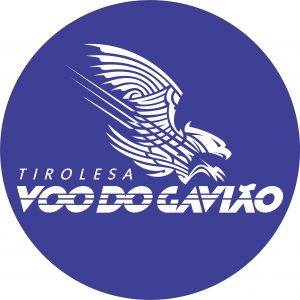 Come experience one of the most beautiful adventures of the Chapada dos Veadeiros, the Voo do Gaviao (Hawk's Flight). Created and implemented by Travessia Ecoturismo under the Brazilian Standards for Adventure Tourism.
With over 850m of length and at 100m of height it is an incredible flight over the Cerrado, facing the limits of the National Park. It has got this name due to the high number of Carcara Hawks in the area.
Located inside the Sao Bento Farm at about 8km from Alto Paraiso, the challenge consists in zipping down two parallel steel cables stretched between Serra Almecegas, at an altitude of 1265m and the Farm's Lookout, at about 1210m, making it a 55m level drop at a maximum speed of 55km per hour.
The activity is monitored by experienced Travessia Team Conductors, following all protocols defined by ABNT NBR ISO 21101 Standards – SGS-Sistema de Gestao de Seguranca (Safety Management System). Periodic training, equipment maintenance and inspection, quality control and continuous improvement processes.
Participants have the privilege to contemplate an incredible 360º view of the mountain ranges and main hills of the region and the National Park's limits.
It's a passive activity where no previous experience and specific fitness training is needed. It's safe for anyone as you sit on your 'chair', grab the zips, and slide down the cables contemplating the unforgettable Chapada dos Veadeiros.
Activity difficulty level
Schedule
Get in touch with us to know about our opening days and times.
Location
Sao Bento Farm.
8km away from Alto Paraiso, taking the National Park's road. While inside the farm, a 2km drive to the Zipline Base where briefings and gearing takes place.
Another 5km drive with our team to Launch Platform.
Extension
850 meters long at 100 meter maximum height.
Prices
R$ 150.00 - Sitting flight on a mountaineering chair.
R$ 200.00 - Laying down flight - Voo do Gaviao Real - On specific equipment.
Tips
Bring water and snacks, and your camera!
Clothing: Snickers / Any kind of hiking shoes; Shorts / Pants / Shirts.
Additional Information
No need to pay for tickets to access the Sao Bento Farm if you're only doing the Zipline activity. Just ask for the Zipline directions at the entrance. (There will be signs guiding you.)
Transportation from the Zipline Base to Launch Platform is included.
Cancelling and Reimbursements: (If you paid in advance)
Before 31 days – 90%
21 to 30 days – 80%
Less than 20 days – 0% to 80%.
Enjoy the Chapada dos Veadeiros through other angles! Come fly at the Voo do Gaviao Zipline.
photo: Ion David
Receive news about Travessia Ecoturismo in your e-mail